[vcex_spacing size="15px"]
If you've ever been involved in obtaining quotes to undertake a larger project, chances are you've experienced large variances in prices between contractors.  One industry where this may seem more prominent than any other is the painting sector.  Why is that?
As a general rule, there is typically never a large difference in price between painting companies, but more so a mismatch in services being offered and the expectation in what the finished result should look like.
Some Painting contractors will always offer the bare minimum level of quality.  This could include applying one coat of paint rather than two or three, using decorative paints instead of protective elastomeric coatings, omitting some substrates such as gutters or fascia boards, or even using unqualified or licensed painters.
So how can you ensure that all of the quotes you have obtained line up and you're comparing like for like products?
When obtaining painting quotes, there are some important questions you need to cover as part of the initial contractor meeting.  These may include;
How long will the job take

How many painters does the company employ

Are they employees of contractors

Are they trade qualified

How many coats of paint will they be applying

Will they patch the substrate before painting

Will they clean the substrate first

How will they clean the surface

What similar projects have they previously undertaken

How long will the job take

What warranty do they offer on materials and workmanship

Can they identify Lead Based Paints and safely manage it
A broader list of questions, and a checklist, has been included so you can ensure you're getting the right information.
Additionally, it is critical to have the painter list all of the inclusions as well as what is excluded from the quote.  For example;
Who is responsible for trimming/removing foliage to gain access

Will they paint the fence as part of the external painting

Is the line marking included

Will they remove & reinstate wall ornaments and furniture

What are the bathroom arrangements
Ensuring what is not included is as important as what is included.  Spend extra time in this area when meeting with the painter.  This could save you all a world of distress and unwanted time wastage.
Other important points to consider include how they will minimise impact and inconvenience to guests/tenants.  This is particularly more important where your building has casual guests or commercial tenants and require access for customers.  The last thing you need is negative feedback on social media because there were contractors hindering your guests' experience.
Take the time to compare your quotes thoroughly.  It pays to obtain several quotes, and remember, if there is a significant difference in price between contractors, there's usually a reason.  Chances are, someone's misunderstood your briefing.  The cheapest isn't always the best option.
[vcex_spacing size="15px"]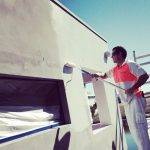 [vcex_spacing size="30px"]
[vcex_spacing size="40px"]
[vcex_blog_carousel count="8″ order="DESC" orderby="date" item_width="230″ min_slides="1″ max_slides="4″ items_scroll="page" auto_play="true" infinite_loop="true" timeout_duration="5000″ thumbnail_link="post" img_overlay_disable="false" img_width="500″ img_height="350″ title="true" excerpt="true" excerpt_length="30″ include_categories="all"]