If you want to transform the look of your home but don't want to break the bank, repainting can be an inexpensive option. Like any other home interior trends, paint colours go in and out of fashion. Picking the wrong paint colours or an overall colour scheme that doesn't suit, can quickly take your home from 'Vogue' to vulgar. If you're not confident with bright colours or unsure, neutral colour paints are definitely the way to go as they can leave you open to using more vibrant colours in your home décor and accessories.
Our top tips for picking any colours for your home are –
Research! Look through magazines and of course Pinterest to see what catches your eye and how others have styled for the colour. If someone has a similar style and colour choices in décor to you, it may give you an idea of where you want to go.
Go to your local hardware or paint store and pick up a bunch of paint chips and/or if there's a colour you particularly like, you can usually pick up a small sample pot for under $10. Try your colour on the wall (or tape the swatch to the wall if you're not ready for the sample yet), step back to get a good look of the colour with the lighting of the room, your floors, furniture etc. The colour that looked absolutely perfect under the bright lights at the hardware may not look as good with the lighting you have chosen in your home.
The three top picks for neutral colours in trend at the moment are: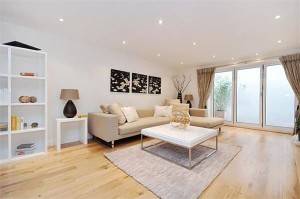 White  
White has come and gone a few times over the decades often being ignored for the colour craze of the season (thinking 80s Apricot! Peach!!  Pink!!!). Today, white is in! White is the perfect way to make any room in your home look fresh, clean and sharp, and it can easily be embellished with pops of colour in your décor to really liven up the room. Paint your walls and mouldings in a crisp white to give a more modern appeal.
Grey 
Grey walls are very on trend at the moment, just ask Dan & Dani from The Block All Stars! Grey shades from a light heather grey to a dark slate grey are all through the interior design magazines and of course Pinterest at the moment. Grey walls can bring an element of sophistication to a room without being over the top. However, there are so many tones and variations of grey available it's hard to know which grey is the pick for you. Generally, avoid blue and green toned greys – focus on greys that have more charcoal tone qualities. Greys tend to pick up different colours depending on the lighting of the room so definitely use step 2 above and try out the colour on a wall.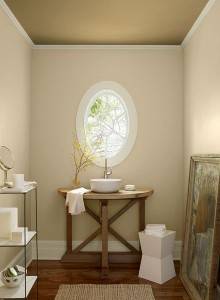 Tan 
Tan has been a popular neutral option for years and luckily, it isn't going out of style any time soon. Tan paint has warmer tonal qualities than grey paint and still gives you the freedom to elaborate with your décor to add colour. For a polished and finished look add white trimmings and neutral accessories. When picking a tan colour avoid tans that have a pinkish tint to them. This will make your walls look out dated and unpolished (do I need to remind you of the 80s!) and look for tans that have a slight grey or white cast but are still warm tones.
As with any paint colour you choose there is what feels like a million different choices in each hue.  If you're still not sure have a chat to your painter. Our Leisuretex painters have all been in the industry for years and have seen what works (and what doesn't!) and will be more than happy to work with you to ensure your finished look is glamorous not garish.<
For styling ideas and examples of white, grey and tan walls in homes, check out our Pinterest board.