[vcex_spacing size="15px"]
When an accommodation provider chooses to undertake a significant refurbishment, the end results generally lead to an increase in its ranking as a desired destination. 
Thanks to modern day social media, projects of the sort can be a marketing manager's dream.  This is by virtue of the ability to let the world know that it's ever increasing its appearance and facilities for their customers.  Conversely however, if the process is not managed properly, the outfall can lead to un-needed social media crisis management.
Imagine this;  You choose to freshen up the look of your Hotel.  You obtain your quotes from several painters, choose who you think is the best option, give them a purchase order and you think that's the end of that.  Several weeks later, there's drop sheets down every hallway, wet paint on walls which aren't clearly marked, contractors laughing, cursing and smoking onsite, incredibly uncomfortable levels of paint odour, and worst of all, a hotel full of angry guests.  Sure, you might be able to temporarily ease their frustration with a free meal or discount on a return visit, but the damage is done as various travel review sites such as tripadvisor, traveller, zoover and more, light up with negative feedback, which let's be honest, could have been avoided.
So how do you avoid this?  Surely you can't micro manage the contractors the whole time.  Well guess what?  Appoint the right company and you won't have to.
As part of the tender process, it is imperative that you have the vying bidders provide you with their own version of a Guest Impact Statement.  Have them provide you with a copy of how they will manage the work, guests, staff, tenants and the like.  If the contractor truly can handle this scale of work, this information should come easily.
A good Guest Impact Statement needs to, as a minimum, cover off on the following points.  It needs to describe how the company will access the areas it is working on.  Scaffold around a building can be unsightly, noisy to erect and pose a hazard to children and the temptation to climb it.  If using products, what type are they and what level of discomfort or hazard will they present.  How will they ensure the safety of the public, property and the Environment.  Will they use temporary fencing, hoarding, tape or barriers.  They should include their work method statements and safety data sheets.  Where will the materials, tools and equipment be stored.
More importantly though, the statement should cover things such as how they will notify guests, what controls they will implement to contain noise levels, which facilities will they block off, can they provide alternate solutions, what is the Program, process or timeline, how often will they communicate with Hotel/Resort Management, and what is their solution to managing guest complaints.
One factor to give strong consideration to as well, is the program by which they will operate.  How will they ensure that only the minimum number of rooms are Out-Of-Service at any given time.  Remember, if it's Out-Of-Service, it's not earning you an income.
Take the time to read through their Impact Statement and ensure that it satisfies all of the factors you consider to be important in maintaining efficient operation of your facility.
The image of your business extends beyond that of your staff and facilities.  It incorporates any persons engaging in duties which may be perceived by the public as being controlled by your business.  It takes an incredible amount of time to build your businesses reputation, but only one reckless contractor to undo all that hard work.
[vcex_spacing size="15px"]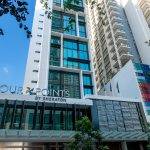 [vcex_spacing size="30px"]
[vcex_spacing size="40px"]
[vcex_blog_carousel count="8″ order="DESC" orderby="date" item_width="230″ min_slides="1″ max_slides="4″ items_scroll="page" auto_play="true" infinite_loop="true" timeout_duration="5000″ thumbnail_link="post" img_overlay_disable="false" img_width="500″ img_height="350″ title="true" excerpt="true" excerpt_length="30″ include_categories="all"]