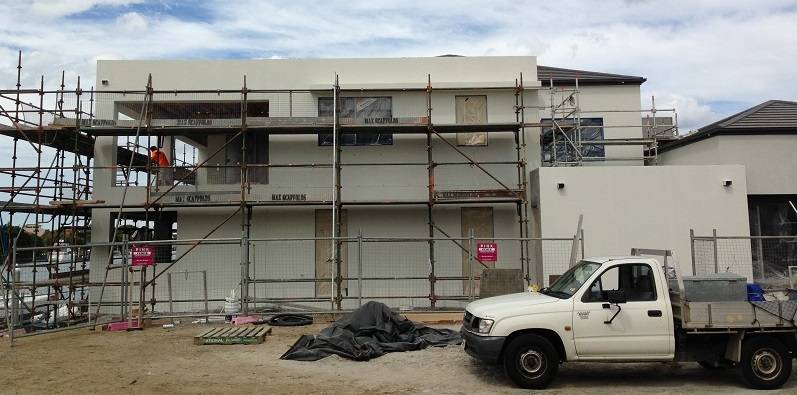 One of our Leisuretex Crews are going great guns on the above render paint project at Hope Island. The newly constructed two storey house is located in an exclusive gated estate of Hope Island with other top end homes. We are currently in the process of completing an AcraTex system on the house exterior.
An AcraTex system involves a few steps – first we apply a coat of green render primer used for sand and cement render that is being painted before it has passed the 28 days curing period. This enables the builder to reduce scaffold hire by a considerable amount creating better costings and allowing the project to move forward sooner, with no effect to the quality of works.
We then apply two coats of AcraSand. AcraSand is a flexible 100% acrylic, mid build sand texture, formulated to produce a fine granular appearance in two coats by conventional nap roller application with balanced properties of film thickness for crack bridging and minimal roller patterning for flat sand finish appearance. It has a specified in system with AcraShield weather-proofing barrier topcoat for optimum life cycle efficiency.
Check out the photos of the work in progress and we will update you when it is completed!
If you have a rendering or painting job you would like quoted on, give us a call on (07) 3341 3403 – we're more than happy to help in anyway we can!