[vcex_spacing size="15px"]
Pinnacle Apartments is the latest addition to the iconic building development at Portside Wharf, set next to the popular Eastside Market Street Hamilton on the Brisbane River. Leisuretex Painting Contractors were commissioned to complete both the internal and external painting of this modern luxury development comprised of 162 luxury apartments and penthouses.
 For all projects, Leisuretex Painting Contractors have a key outstanding of expertise. Their specially trained staff utilise swinging stages and abseil ropes for external painting and cleaning; eliminating the need for costly scaffolding (unless totally necessary). With staff trained to Level 3 ARAA qualifications (the highest rating), Leisuretex is equipped to give the best painting service for working at heights and difficult to access buildings.
 Swinging Stage boats are ideal for large expanses of painting works such as those involved in construction projects. The swinging stages are set up from the top of the building in an area restricted to only a few authorised personnel on site. More importantly; set up with the swinging stage ropes and pulleys are Leisuretex's rope recovery lines. When Leisuretex's comprehensively trained staff are painting from the swinging stage boats, they are all harnessed with rope lines that are secured to the building separately. Leisuretex's commitment to maintaining a safe environment is always the highest priority.
 Abseiling is a quick, efficient and cost-effective painting solution for high-rises, double-storey buildings and anything in between. Interestingly, the abseiling technique is much more cost-effective for the client. Leisuretex Painting Contractors can and do utilise the scaffolding option, however applying the two former methods is preferred. They are truly artisans of their trade in this way. The outcome is that the construction project is less expensive, with far more focus on detail.
 Being an industry leader, Leisuretex Painting Contractors have been around the block countless times. With their stellar track-record and high calibre of painting, Brisbane painting projects have never been in more capable hands.
 Leisuretex Painting Contractors, with their 'Make it Happen and can-do attitude', have applied their painting expertise in projects such as 757 Ann St, Fortitude Valley, a new construction building with a 5 star Green Star Office Design. They have also completed the super-luxurious Four Points by Sheraton, located in Brisbane. The project was a 32 storey building and has been described as the "first internationally branded, new-build hotel launched in Brisbane in the last 10 years".
[vcex_spacing size="15px"]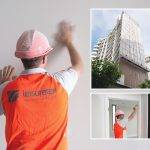 [vcex_spacing size="30px"]
[vcex_spacing size="40px"]
[vcex_blog_carousel count="8″ order="DESC" orderby="date" item_width="230″ min_slides="1″ max_slides="4″ items_scroll="page" auto_play="true" infinite_loop="true" timeout_duration="5000″ thumbnail_link="post" img_overlay_disable="false" img_width="500″ img_height="350″ title="true" excerpt="true" excerpt_length="30″ include_categories="all"]